Derek Christopher Coward Sr
August 16, 1948 – May 22, 2005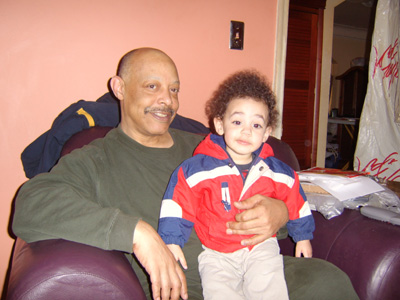 DCC Sr and Stephen on Easter 2005. This is the last picture I have of my father.
Rest in Peace, Dad
The Obituary
Derek was born August 16, 1948 in Detroit, Michigan, the son of Jacqueline and the late Charles Coward. He was the oldest of their four children. Derek was a fifth generation Detroiter. He received his education in the Detroit Public schools system, graduating from Northwestern High School in 1966, where he was a good student and lettered in football.
Derek joined the military at the age of 18 and served honorably in the United States Army. He was a man of courage and a survivor. Derek was awarded the Purple Heart for his service in Viet Nam. During his tour of duty in the military, he married Bonnie Walls and they were blessed with two sons, Christopher and Charles. Derek was very proud of his sons – their many accomplishments and the men they had become.
Derek loved sports. He played semi-professional football for the Detroit Cowboys and the Hamtramck Chargers. He coached little league football for the Northwest Detroit Cougars, and later coached the junior varsity football team at St. Martin DePorres High School.
Derek met his true love and soul mate, Shantryce Craig on June 8, 1987. They were married exactly 15 years later on June 8, 2002. Their marriage was one of unparalleled devotion. Derek was a hero to his wife, his family as well as his friends. Derek accepted Christ in his life and demonstrated it through quiet action. He approached his work and and all relationships –personal and professional– with integrity and respect.
Derek was employed with the Chrysler Corporation from 1968 until 1978, first as a line worker and later as a procurement officer. After leaving Chrysler, he became a Wayne County Deputy Sheriff and had attained the rank of sergeant. He served the community he loved through the Wayne County Sheriff's Department for 23 years, until his untimely death on Sunday, May 22, 2005. Derek was admired and loved by his co-workers.
He leaves to cherish his memory and celebrate his life, his beloved wife Shantryce; two sons, Christopher and Charles; his beloved mother, Jacqueline; four grandchildren Jaymie, Jazmyn, Araya and Stephen; three sisters, Dana Coward, Dru Taylor (Joseph), Jan Leverett; brother-in-law, Larry Leverett; a half sister Charlene (Christopher); four special in-laws Kim (Dennis), William (Deloris), Chris (Elanda) and Donya (Alecia); five aunts; a host of loving nieces, nephews, cousins and friends; and two special friends/companions Jojo and Star.