[from Michigan Chronicle Vol 40. No. 48, Dated March 20, 1976]
Prominent Prelate Dies During Vacation Trip
By Robbie L. McCoy
Services for Rev. Stephen Calhoun Campbell are scheduled for 11 a.m. Friday, March 19, at Russell Street Baptist church, 8700 Chrysler, where he was pastor.
Rev. Campbell died Friday, March 12, in Clinica Abrue hospital, Santo Domingo, Dominican Republic, 10 days after becoming ill. With him at the time of his death were his daughter, Mrs. Ansonia Walls, and a son, Anthony.
Known across the country as "Dynamo" and locally as "everybody's preacher," because of his limitless energy and dynamic way of speaking, Rev. Campbell was born 81 years ago in Newberry, S.C. He embraced religion as a child and was baptized at age 11.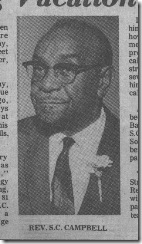 In his obituary, written by him, Rev. Campbell related how, after receiving a message from the Lord "to go preach," he resisted the calling. He said he was later stricken with an illness of several years which caused him to yield and accept his calling.
After his ordination, he became pastor at Mt. Zion Baptist church in East Over, S.C. and was pastor at several South Carolina churches before being called to the pastorate at Russell Street.
The congregation at Russell Street Baptist officially titled Rev. Campbell and his late wife, Pauline, "pastor and pastorette" because of their teamwork. Mrs. Campbell, who was a prominent Baptist executive, died 18 months ago.
Particularly fond of books, he had a library of some 1500 volumes and was an extensive recorder. A graduate of Morris Brown college, Benedict college, Howard and Wayne State universities and the University of Michigan, he held many positions in the Baptist denomination including state convention secretary, and president of the state congress.
He served as auditor of the Wolverine State Convention of Michigan, dean of the Sunday School and Baptist Training Union Congress, editor of the Baptist Training Union Literature, writer for the National Baptist Publishing Board and member of the enrollment committee of the National Baptist Sunday School Congress. He was also founder of the School of Methods in South Carolina.
Rev. Campbell is survived by his daughter, Ansonia Walls; five sons, Stephen C. Jr., of Pocoima, Calif., Finley C., Madison, Wis., Major C., Washington, D.C., Anthony C., Roxbury, Mass., and Russell, Detroit; three foster daughters, Muriel K. Thompson, Greenville, S.C., and Lulu and Phyllis Farah; a sister, Clara B. Kearse, Philadelphia, Pa.; 17 grandchildren and three great-grandchildren.
Internment will be at Woodlawn cemetery. Handling arrangements are the Barksdale funeral directors.